Kings

Scroll all the way down for the latest news:)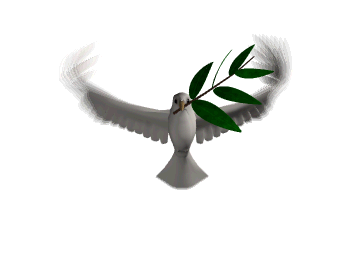 My King Pigeon Page
Here is a way you can save and also give to MickaCoo Dove and Pigeon Rescue:
It is very simple if you go online to www.secretsofeden.com and
place an order use the coupon promotion code : ADOPT...... You will save 20% on your order and the company will match that with a 20% donations to MickaCoo Pigeon and dove rescue! Please pass it on and on and on!!!
(I have been using these products for about 2 years and they are great and the compnay stands behind the products and has great customer service)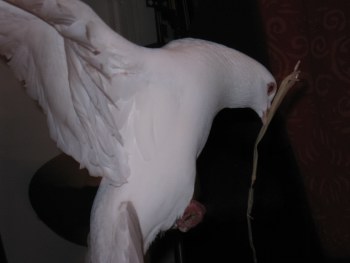 Dovee
Pij Confessions
Cheryl Dickinson is a MickaCoo volunteer.
I first met a black feral pigeon pet called Beaky back in June 2007 in Michigan. I was now what I call enchanted by him and thought out loud "maybe one day when I don't have cats I'll have a pigeon". That was an accident.... Careful what you wish for.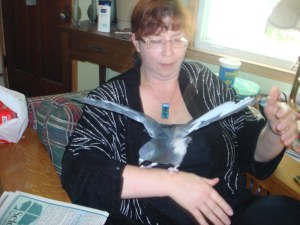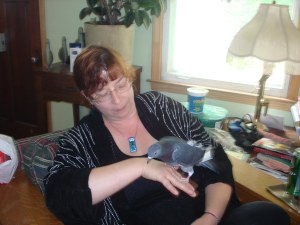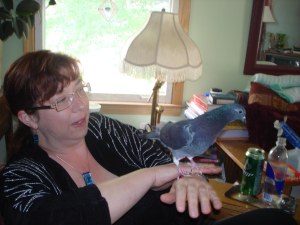 On October 6, 2008, a friend who heard me say that told me about a white pigeon who was lost and would not leave a bar called Cheers in Pacifica. She asked me if I could take him. I said yes, I will find it a home. So I put him in a dog crate in my bath tub and called it Dovee. I have no idea how to handle, hold, pick up, feed a pigeon. I had no idea I had a domestic white king pigeon. I was actually very intimidated and to me he seemed like a sea bird. I knew of Pigeon Talk from the Internet and there found him a home and ordered a US Mail shipping box. Before the box came, I found Dovee a second home in Michigan with someone who could hand carry him. So I got Dovee a plane ticket for $80 and funded the adopter a few hundred for a large cage. Some months later the adopter could no longer keep Dovee and put him in the mail back to me and the Tuesday after Easter on April 14, 2009, I picked him up from the post office. That was a bad idea to pay all those cost. To Dovee's surprise, I opened the box put him back in the dog crate in the tub. He honestly took a second look, like he went to Oz and back! Still not knowing how to pick one up or that it was a domestic bird. I decided to try to find him a home. That is when I met Elizabeth Young of MickaCoo Pigeon and Dove Rescue. She took her time and with home visits helped me learn about king pigeons, how to pick him up and gave me endless support and suggestions to care for him. During the time Elizabeth was at my home, she asked me why I did not want to keep him since I seemed to care for him so much. I told her while renting, I did not want to make the commitment and maybe when I bought a house someday I would have an aviary in my yard. After realizing it would take me a while to find him a home, I also purchased a second large flight cage which resides in my living room.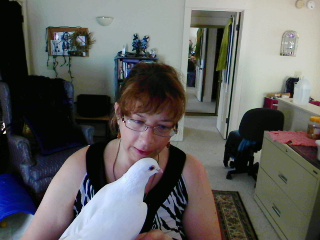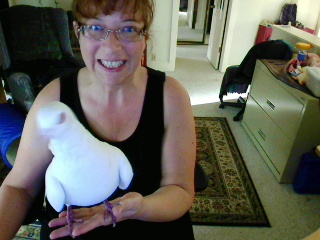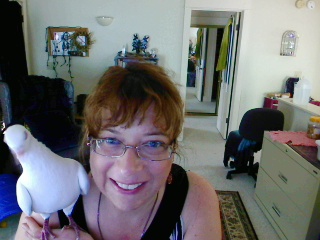 Since April, I have learned how to handle him and continue to give him all my best so that he can be a nice tame pigeon. For over a month I kept offering him my hand to perch on and he finally one day decided I was okay and now he lets me handle him and pet him more. He is really a nice bird. He also has developed a relationship through the cage with my two cats and dog. He is very cute and I love to watch his reactions and habits form. I never thought birds had much of an emotional life or even thoughts, but I believe they do now. So little Dovee has enchanted me and taught me a lot about white king pigeons. I could never imagine anyone wanting to eat him. I think Dovee had to trust me more before my situation would change for me to pair him up with a hen. I think he would be happier that way and he will live in my yard loft and I hope to help other kings by fostering them until they can also find a good home. Dovee for now is with me, I think he deserves that after flying back and forth two times in his young life. This is how I became an accidental Pigeon Mom.
That is my Pij confessions....
Perch on...Cheryl & Dovee
Now you know the old line "Be careful what you say or think"! Some time after I first met Elizabeth my landlord phones me and asked me if I want to buy his home. I decided his home would be too much work and decided to find a smaller one and I did! Just a few weeks before I was even moved, I received a call asking if I would like a donated Aviary! I moved in on August 20, 2009 and by August 23 there was a crew of us setting up the aviary. This was the first room unpacked in my home! Elizabeth came by and said if she did not know any better, she thought I bought the house for Dovee! It's true and that is my story and I am sticking to it!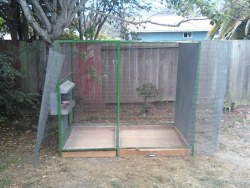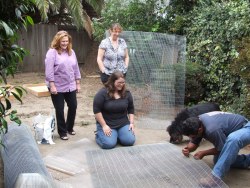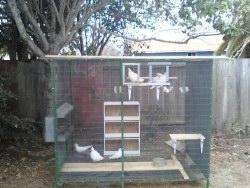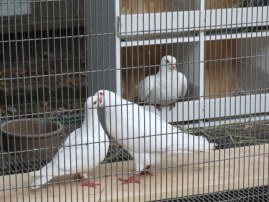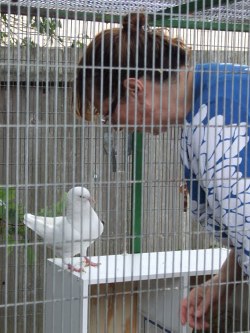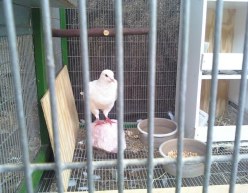 I am now volunteering for MickaCoo Pigeon and Dove Rescue by taking care of an Aviary for foster King Pigeons that are up for Adoption and also assist the Director Elizabeth young with some Administrative work.
On October 4, 2009 a day after spending a day on assignment with MickaCoo at an adoption table with my rescue Dovee and the afternoon sweeping pigeons at two south bay animal shelters, I decided I am really more attached to Dovee than I thought. So I wrote to Elizabeth and told her I was going to make Dovee and Zoe my pets:)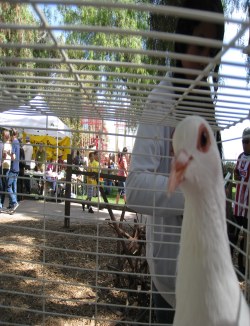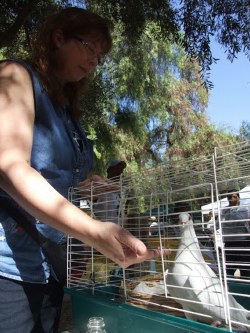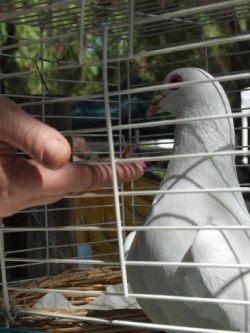 Update: On October 11, 2009 Elizabeth and I decided to match Dovee up with a King Pigeon called Wendee and match Dovee's Zoe up with a one footed homing Pigeon called Johnny Pig. Since Zoe was a homing pigeon with bad foot, we thought it was a better match. Well, Dovee took to Wendee immediately. We even brought in other hens to give him a pick and he picked Wendee. After a few weeks, Zoe and Johnny Pij became a couple and were placed in a loving forever home.
On November 7, 2009 I took Dovee and his new Wife Wendee to a garage Sale to raise money for MickaCoo. Dovee and Wendee sat relaxed all day and Dovee did a lot of cooing and attracted a lot of interests for MickaCoo!
Dovee is shown below on the left and Wendee on the right. Dovee came out in his Peace pants for a demo:)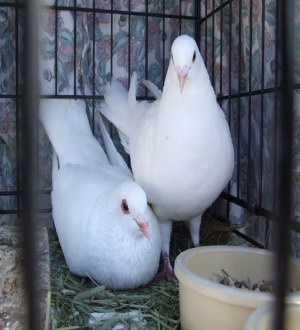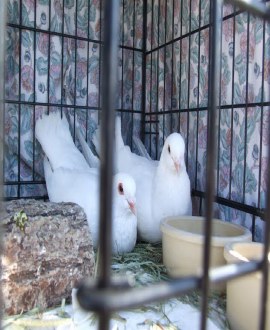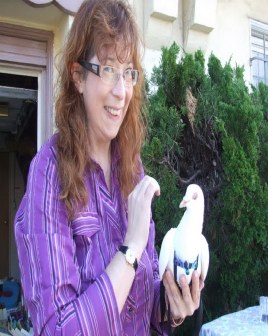 The last week of November 2009 I started to notice Wendee was a little lethargic out in the aviary, so after a lot of evaluation by both Elizabeth and I, I brought her and Dovee inside. On November 30, 2009 I took Wendee to the vet. After that visit she was diagnosed with Yolk-itis and given Antibiotics and pain killers. After 45 days of treatment and new symptoms the vet I spoke to seemed under whelmed with, I decided to seek another opinion. In doing so I uncovered that she had a calcified egg stuck in her and if I did not have it removed, I could keep treating her medically with pain killer and antibiotics, but she would eventually pass from it.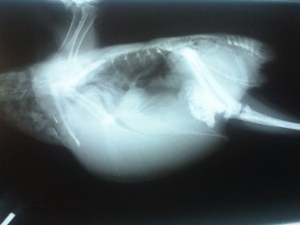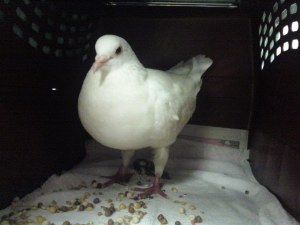 (Wendee in the Aviary) (Xray showing calcified egg) (Wendee before her surgery)
So on Friday, January 22, 2010 Wendee went in to have surgery to remove the egg. She made it to the end of surgery but ended up bleeding to her death. She actually had more than one egg all backed up and that was only what could be removed. I was just in shock and very heart broken. I brought her home and buried her near the aviary.
Backing up a few weeks!
On December 27th, 2009 Elizabeth brought me a flightless Feral to foster called Tiptoes. So he Joined my other two Fosters called Kizzie and Mille. At this time, Dovee and Wendee are still inside my office while Wendee was not well.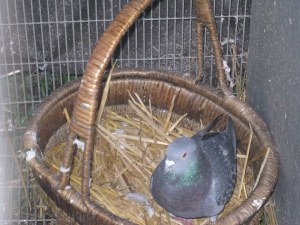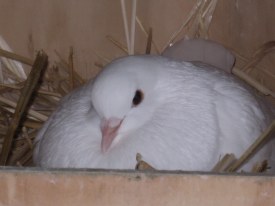 TipToes has been Adopted Kizzy and Millie
Have been Adopted
For more information on Kizze, Mille, Tiptoes, Johnny Pij and Wendee visit
www.rescuereport.org
and click on there name to the left of the home page:)
So it get's more exciting!
Here is the Birthday King Pigeon Story! This happened on my Birthday the Evening of January 3, 2010.
So recently I had told Elizabeth my Birthday was coming up and she was plotting to figure out which King Pigeon to give me for my birthday (joking), little did she know if she brought me one (that offer expires on my last birthday) I would have taken it as a pet! I even asked her on My Birthday, "where is my Birthday Pigeon? " She said I could use that rein-check anytime with a big smile! So I had planned to go to a local Mexican restaurant here in Pacifca to meet friends and family for a low key casual relaxing celebration. My friend picked me up and as we were pulling up to park, there was a Homeless, hungry, scared, cold King Pigeon walking down the walkway, before the car even stopped, I jumped out and immediately started to catch the King. She was hiding under a car and after a few minutes she was back on the side walk scared as can be with two King Kong figures trying to trap her and I tossed my coat over her and caught her. She felt really thin and had a black X drawn on her head and discolored beak (injury). So I brought her in the and everyone was thinking has Cheryl gone crackers bringing a pigeon to her Birthday dinner! So I got a box and she stayed with us in a warm place for dinner. I call her Jan for January and she is doing well. Elizabeth so kindly took her for a few days to make sure she is stable enough to stay on her own during the day. There is no question in my mind that I am keeping Jan as a pet. The odds of anyone stumbling onto a lost king pigeon are pretty rare and for me to find two (Dovee & Jan) well that is a blessing and a miracle. I myself no longer believe in coincidences. Rather have faith that every thing that has been put in my path is there purposely. So I welcome Jan my Birthday Pigeon to my family with open arms and heart.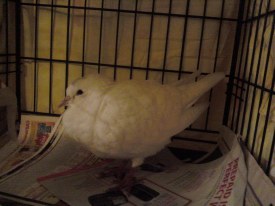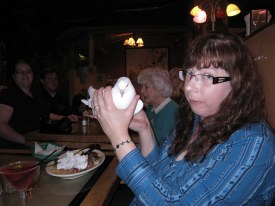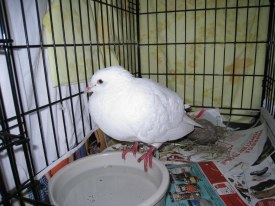 Jan had been over with Elizabeth for evaluation and on Saturday January 9, 2010 I had got a new flight cage sorted out and set it up to Wendee and Dovee in my office and brought Jan home! In the meantime, I noticed Jan was very lonely and a little scared and when I was outside, saw the Kizzy was beating up Tip Toes. So I brought Tiptoes indoors to be with Jan and after a day, they were a couple.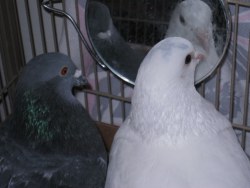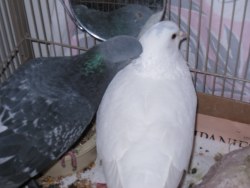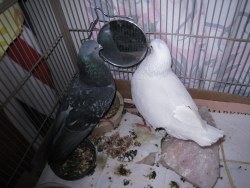 Jan and Tip Toes
On January 22, 2010 when we were on the way to pick up Wendee's remains and speak to the vet, the call came in that TipToes got a ride to go to his new home in Southern California. So Side by side I had one cage with a crying Dovee wondering what happen to his wife and a still but worried Jan wondering what happened to her tip toes. So I lifted the sheets between the cages and let them see each other. Later in the evening I opened both doors to give them fly time and Dovee flew out of his cage in into Jan's cage. I decided to let them be together that night and they have been tight ever since.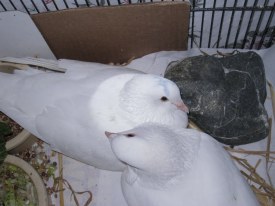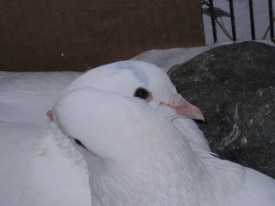 Dovee and Jan comforting each other after they connected after both having losses the same day!
Watching Dovee and Jan has really put me in thought deeply about how we process the transition through death. Death is much a part of life as being born. I just notice that Dovee and Jan seemed to move past the loss with the absent of ego and a more close connection to spirit. When I found Jan she was real thin at 501 grams and has put on some weight, last measure 611 grams, but all the same I want to make sure she is 100% before I put her outside. As of the last week of January she was under the weather and vomited, I have been feeding her fluids, giving her hands on Reiki and she seems to be improving. Update: On February 1, 2010 I came home to find these two stillborn eggs in the center of Dovee and Jan's cage. The eggs were covered in mucus and one of them was rubbery to touch. I beleive she had them stuck and is why she became ill and lost weight. Pigeons also never lay both eggs at once and they usually look like some snooth pereals. Jan was also feeling better and every day since has improved and in good health again. I have them inside until Jan has a new set of eggs so I can make sure she does not have any further problems.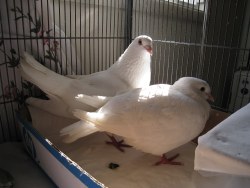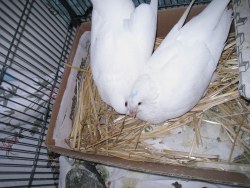 Eggs 2/1/10 Dovee & Jan after Eggs Dovee & Jan cuddles
On February 8, 2010 My foster Pij's Kizzie and Millie were adopted and are on there way to Georgia:)
Sadly on February 18, 2010 I had to say good by to my best friend for the last 12 year and Dog Zizi:) I know Zizi is not a King Pigeon but she sure was a wonderful companion and really put up with all my Pigeon happenings like an Angel! RIP my Furry Fluff Bucket xoxox
All I have to say is Wow Since February 8, 2010 until today April 24, 2010 it's been a whirlwind of activity for MickaCoo and that includes my small contribution to foster a few pairs in my Aviary!
Some Pij's that have stayed at my aviary and many already been adopted are: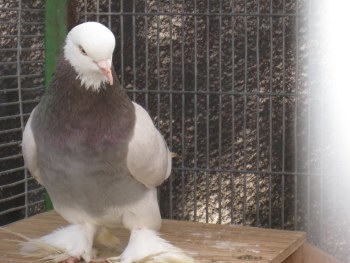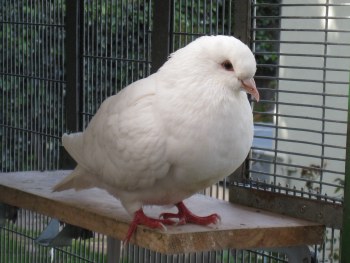 Austin has been adopted - CT Angel was with me a short while and is in SF
available for Adoption.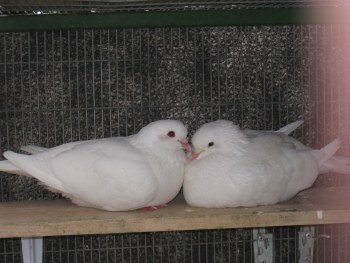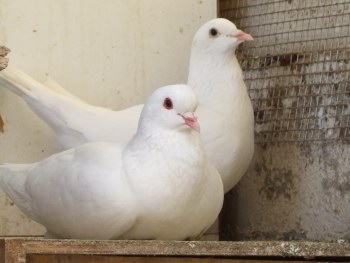 Rio & Roxy have been Adopted - NY Frank and Betty have been Adopted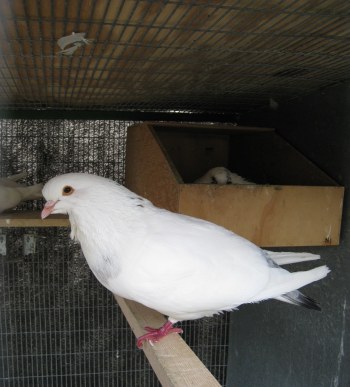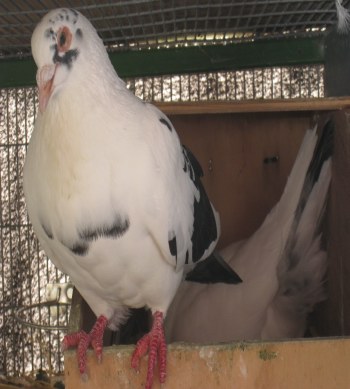 Cute Couple King Pigeon Teddy and his hen Seeing impaired Racing Pigeon named Chase
This nice looking couple are available for Adoption.
Simone is a super Cute Racing Pigeon
Available for Adoption
On 4/12/10 Elizabeth brought over Simone and a little white Homing Pigeon called Manly.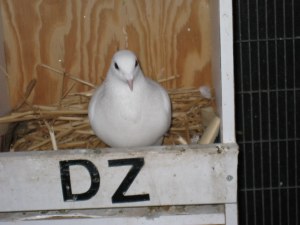 Well Manly turns out loves people and he wormed his way to my heart and home.
I have decided to adopt Manly as my third Pigeon for a Pet:) He loves to cuddle:)
So Manly has been adopted by me!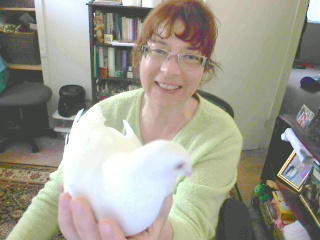 For more Information about MickaCoo please visit:
NEVER BUY OR BREED, BUT ADOPT!