Reiki Drumming

Reiki Drumming is a blend of Shamanic drumming together with Reiki energy, a recipe for transforming your spirit, mind, heart and soul. Drumming promotes a sense of deep relaxation and together with Reiki is very empowering in initiating the process of healing at all levels.
I am a certified Reiki Drumming Practitioner, I have received my certification from
Infinite Light Healing Studies Center
in Sedona, Arizona. I also continued my studies of drumming through the
Foundation of Shamanic Studies
which included introduction, methods of shamanic healing, power animal and soul retrieval and working with nature.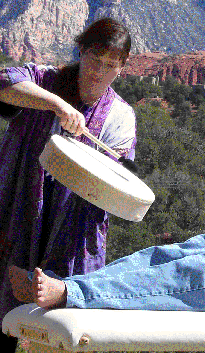 Reiki Drumming activities and services available:
Reiki Drumming Healing Sessions:
Full Reiki session with Drumming work, 50 Minutes $65.00
Single Drumming session............................ 30 Minutes $45.00
Distant Drumming Healing......................... Donations
Group Drumming Journey work............... Donations depending on location & group size.
* Drumming Sessions include drumming and hands on Reiki and promotes deep relaxation.
Other Drumming Activities:
I offer Free Drumming at my healing Circles for Reiki Practitioners and am delighted to share drumming at other Reiki and non Reiki healing circles.
In the summer months I am initiating a program in Pacifica for Teenagers and Adults too:
Introduction :
Reiki Drumming Circle
These were held in the summer/fall months
to resume in Late summer/Early Fall 2009
Contact me if you would like to be on my mailing list or check back again.
All ages welcome!
7pm-9pm at Linda Mar Beach (Taco Bell Beach)
Will gather to the right (facing beach) of the restrooms
Cost: FREE
The transforming Drumming circle will include:
Introductions
Opening Circle
Opening Energy Exercises (Fun using sound and movements)
Drumming journey
Jam session
Sharing
Ceremony/Prayer Ritual
Closing circle
Bring Blanket/Beach Towel to sit/lay on and bring water or other non alcoholic beverage/snack to share.
For more information please contact Cheryl Dickinson 650-359-1956 or Email: Cheryldickinson3@yahoo.com
*Adult supervised and Parent consent required if you are under 18 years of age