Testimonials

What people have shared about Cheryl's work:

I have known Cheryl for years and was looking at her Health Coaching web site and read the first paragraph which said "Cheryl helps women over 40 find the right diet for their unique body and lose weight, so they can discover the love of healthy food and become HAPPY without yo-yo dieting. Do you know any women who wants to find the right diet, lose weight and be happy?" Well this was me, a 70 year old healthy woman with some extra weight around my mid section. Ever since I was diagnosed with hypothyroidism I put on weight and just couldn't take it off no matter what diet or exercise I tried. I talked to Cheryl about my concerns and she said she could help me and decided I would benefit from "The 14-Day Reset Cleanse" which was a simple food elimination diet plan and body practices. I ate healthy food but eliminated gluten, coffee, alcohol, dairy, eggs, sugar red meat and certain fruits and vegetables. I ate like this the first 7 days and then started reintroducing the foods that were eliminated from my diet. Trust me, this was really hard the first few days, especially not having my coffee in the morning. I do have to say I got use to eating this new "healthy" way and have been off the reset cleanse for a couple of weeks now and have not eaten most of the foods that were eliminated from the plan and really don't miss the sugar, gluten, dairy and red meat and have already lost some weight which I am so excited about. This is the first time I have lost weight on any plan I have tried. This really is not a diet, but a life style change to better my health and well being. I feel much better than I have in a long time.
Thank you Cheryl for being such an inspiring and helpful health coach. You are the best. - Caren L. 8/28/17
I was introduced to Cheryl just over a year ago. I am also a Health Coach and like to connect with other coaches who I can refer clients too if they need support that I don't offer. I am very selective of who I will refer clients too. Not only do I refer clients to Cheryl but have worked with her myself and she is a very talented Health Coach. I have learned much from her that has helped me to stretch and grow. One thing that I love about Cheryl Is that she is incredibly fun and engaging. I always feel so refreshed and empowered after I finish a session with her. Another quality that she has that sets her apart is her ability to listen deeply and get to the root of what
Is in your way or holding you back from what you want and help create doable action steps.
Thank you Cheryl
For sharing your gifts as a coach with the world!
Christie Jones, Health Coach 7/17/17
Dear Cheryl, Thank you for nourishing my body, mind and soul. You are a fantastic Health Coach.
Denise H. 1/23/17
Update from Denise: Your Health Coaching is transforming my body and life! Thank you! 7/10/17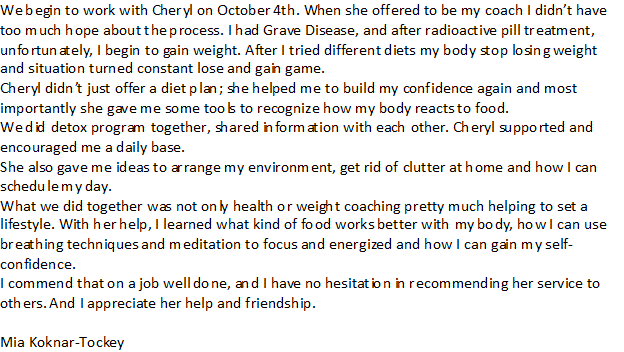 1/25/17
I have to tell you-- the Level II Reiki experience continues to really really
really do a lot for me in terms of attuning myself to the divine blessings of
the universe! Since that weekend, I have been experiencing, or just noticing
more and more, the beautiful coincidences of life! A nagging anxiety I dealt
with for years also improved drastically. And also, the power of intention
has continued to speak to me. The spider came to me all summer-- and still does,
as did a lizard on my most recent visit to California a couple weeks ago. I
continue to listen to their messages and ponder their place in my life. And
while the anxiety creeps up again from time to time, I have faith that this
new Reiki connection has been sent to help me to naturally remedy this again.
Megan S. 1/29/09 Virgina
(Reiki 11 Student)
((((Cheryl))))--
I woke this morning and I feel as if a tremendous weight has been lifted from me. Your Reiki healing has helped. I am back to my positive self.
Thank you again for all of the positive energy
D. 9/29/08, Connecticut
(distant healing experiance)
You know what?
You really do have the power to send healing vibes.
That's amazing.....(and wonderful!)
R.N. 5/27/07, Ohio
(distant healing experiance)
hello Cheryl,
i'm so happy i am now in level 2 reiki. i had this persistent soreness at the back of my neck for months now and voila

that sunday evening and thereon it's gone! ever since i got into reiki or rather reiki got into me, it's just wonderful. thank you cheryl for being an instrument of reiki that i had my attunement.
namaste and blessings,
lowella 2/22/07, Daly City, CA
Hi Cheryl, I was transcended when you took me on my journey while we were on the beach & am anxious to try it again. -Carol 3/13/06, Pacifica, CA
Hi Cheryl, I wanted to thank you for introducing me to Reiki. While driving home from the session, I noticed a subtle difference in the way I was seeing and feeling. The sight of the ocean for instance was breathtaking - almost like I was seeing it for the first time. I also noticed that I was much calmer that night. Today was also a great day in that people in general seemed friendlier and there was a warmer feeling overall. I was also consciously reminding myself of what you said about negative thoughts and how they are able to materialize if I let them take control. I was pretty successful at keeping those thoughts at bay today, but the challenge for me is to continue it tomorrow and then the following days. The subtle change was also noticeable throughout the day. It wasn't anything overwhelming but I did feel uplifted and energized (even though we were still fogged in the entire day). I also went for a bike ride with my co-worker this evening on Canada Road and both of us noticed something different today. By the way, we ride this route after work two to three times a week and have been doing it for about 3 years now. Today however, we rode in a more relaxed and unhurried manner and just enjoyed the ride. What was surprising though was how much easier the hills were and how what was usually an effort, was almost effortless today. We also finished the 30 miles in practically the same amount of time! As I'm writing this, I am realizing that I need to learn more about the Reiki energy. If you get a chance, could you send me the name of the Reiki book that you showed me and its' author. So thanks again for your time and energy Cheryl. I'd like to do another session in a couple weeks, but I'd also be interested in attending one of your classes if you were planning any in the near future. Talk to you soon. Take care, Dave 8/10/05 San Francisco, CA
Cheryl, I just wanted to let you know that everyday has been remarkable. I had forgotten how wonderful it is to wake up each morning feeling refreshed and energetic. I find now that I do not have enough time in the day to complete my "to do list". ( which hardly existed in the last year due to lack of desire and energy)
Much Love, Lee 3/7/05 Pacifica, CA
Cheryl and I took Reiki I classes together among other classes. I was her first Reiki client. I knew immediately that she had "the gift". When she placed her hands over my eyes, the sensation of heat was incredible. I literally felt the vibrations running through my body. Cheryl and I continued to do "Reiki shares" until her move to California. With each share, the vibrations became stronger and stronger. Her intuition is incredible also. California's gain is my loss!!!!! Take advantage of the wonderful gift in Cheryl - you will not be disappointed. Jodie S, Stamford, CT
Hi Cheryl:
I want to thank you for the healing yesterday. My knees are a problem for me and have been weak lately. Also my right side was hurting all week. However, today my knees feel strong and the pain on my right shoulder blade is practically gone. I also had mucus in my right lung from smoking and that feels like it cleared up considerably. Thank you. Your hands are indeed healing. I speak to you soon angel. Thanks from the bottom of my heart.
D, Connecticut 3/8/04
Hi there Cheryl,
I'm doing very well considering it will be 2 months on the 11th of Jan. At first I thought dear God I'll never get better, I was so useless. I am trying to walk as much as I can so I can get all my strength back. I am still weak in that area. I will always remember your Reiki, I believe it got me through this. This was major and I needed all the help I could get.
Love , Marie S., California 1/4/05 (A distant healing client)
"To share the gift of light, love, and inner peace is magical. Cheryl has a unique ability to guide her students to truly ground themselves and to let in as much positivity and sense of self, as they can. Reiki is so powerful and when you honestly open yourself up to its possibilities it can provide you with an awesome sense of self-love. To be able to teach that to others is priceless." Nicolle M. - California
An evening with Cheryl in the comfort of this retreat.. also known as her home is always an experience. Unique.. at times, but most of the time quite exquisite. This evening I came over to her house for a healing circle, sadly the other two practitioners who were supposed to be there could not make it but neither Cheryl nor I knew this was fate. We ventured up into her healing room and began our healing, little did I know that Cheryl was not the only person working on me. I felt something resting very lightly on my right knee and ankle, I had figured it was just a crystal that had been placed there, but I felt it move and grip and even tap me a little bit. It was not a stone or Cheryl. I received the best healing I have ever received. I feel so lifted my face is starting to cramp from resisting my smiles, and I feel as if a huge weight has been removed, thank God this is just a normal night with Cheryl. Debbie S., Pacifica, CA
"Well, I have to say that I am quite impressed with your Psychic abilities my friend. Remember when you said that a band member would be filled with a little too much ego and that you see him leaving? Well, just last weekend, he was spotted at a night club where one of the bands we beat out at the challenge. He was over heard saying "These guy's suck! We beat them out of the competition"! I was told he was very loud and drunk. We have to put up with him as there are no substitutions allowed at the Memphis challenge but we are breaking in a new drummer (female) this Saturday because after February, she will be gigging with us instead of the big headed drummer.
So you were right kiddo, once again." Debra C. - Connecticut

The butterfly
is a symbol of freedom, renewal and rebirth.
9/7/04 Cheryl wrote to James who was facing a devastating aftermath of a Florida Hurricane and often saw butterflies as a sign of hope. "You are going to see the most amazing acts of kindness and maybe even a butterfly, okay it could be a moth, hehe."
James wrote: "Good grief Cheryl.......I saw earlier today what at first I thought was a butterfly, inside my kitchen window, and was thinking "this is a sign of something good" but when I looked more closely it was a "moth" and a felt a bit of disappointment, now I know it WAS a good sign! Thank you Chez, I really do believe you have GREAT intuition. I saw and experienced many acts of kindness during and after the hurricanes so that was something else you were right about."
Soup Testimonials:
Cheryl,
Thank you so much for the delicious Homemade Soup. It was just what the doctor ordered…it fixed me right up! I tried eating Campbell's Canned Soup and it did nothing for me. When I ate your homemade soup it was so soothing going down my throat. It also warmed my throat, chest and tummy. I had a nap after eating and slept like a baby. It is amazing because the next day I felt so much better and my voice wasn't as gruff.
I appreciate you making the soup and taking time from your busy schedule to bring it to me.
Love, Claudia